All of his work is based on a minimalist principle: a single line is enough to express great things.
This artistic tendency dates back to the 19th century, and very few French designers can really master this one-line technique as well as Quibe.
For him, it is a way to simplify the complex world around us while communicating a strong message.
An image of love and respect, revisited through his work "The Kiss". 
This one has been reproduced several times by its creator during the periods of confinement that we have known, not to forget the essential.
In recent years, it is difficult not to cross in his own street.
So what do you do when you want to wear white while standing out with subtlety?
We designed the shoe that not everyone has, it will make you unique and privileged with your entourage.
Real Slippers
Feeling good in your sneakers
From an Italian tannery, the perforated leather lining provides a soft and supple feel, making this sneaker a real glove for your feet.
You'll notice the leather softening after several days of use, which is perfectly normal: it's a guarantee of quality, while allowing the leather skin to adapt to your morphology.
Depending on where you are going and who you are meeting, it is fundamental to have high-end shoes.
The designer sneaker can be paired with jeans or a dress and worn in all circumstances. The perfect compromise.
Following your remarks, we have reworked the assembly of the back heel, the stitches have been removed. You will not have any more friction at this level, even for those who have a thin and fragile tendon skin.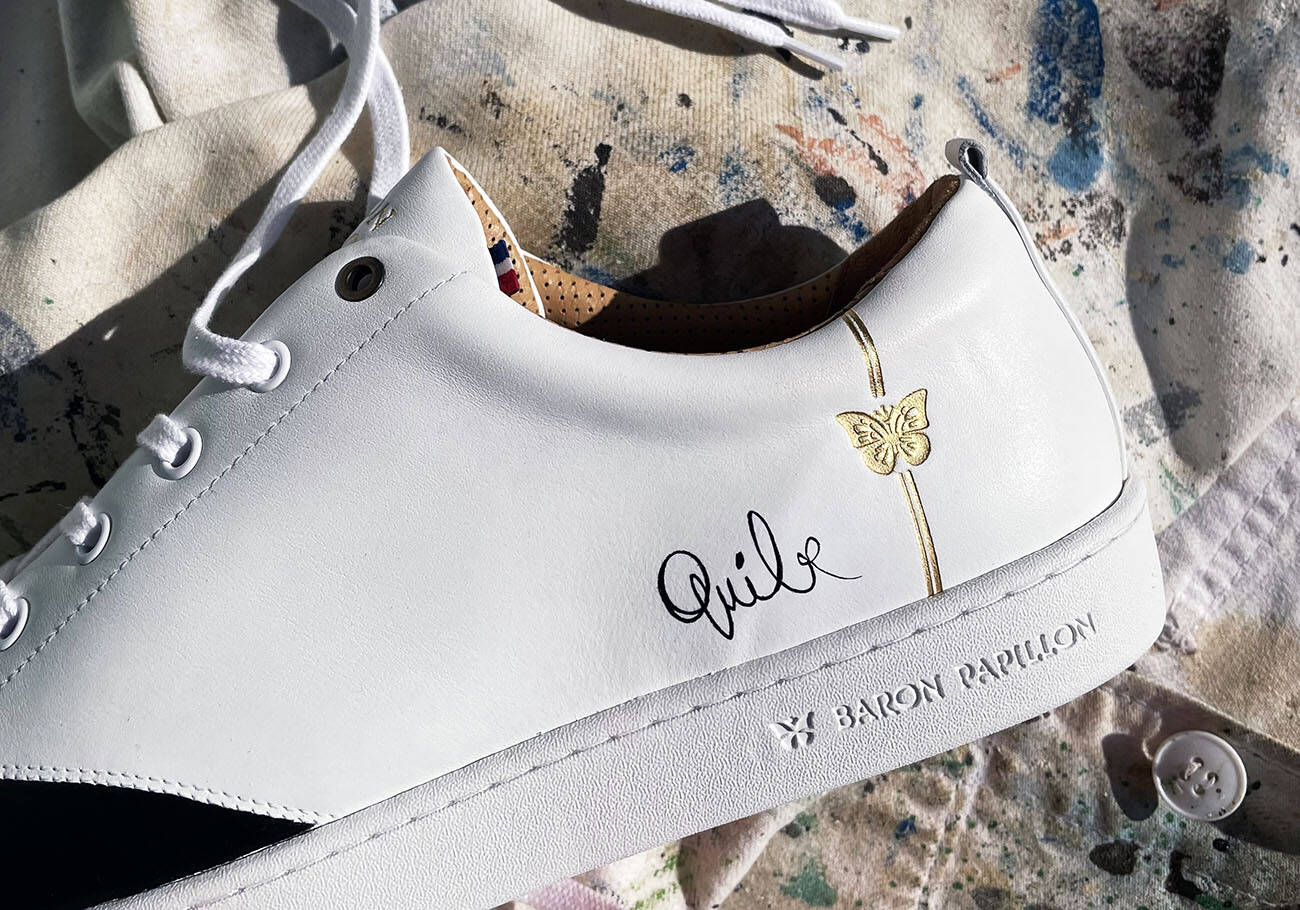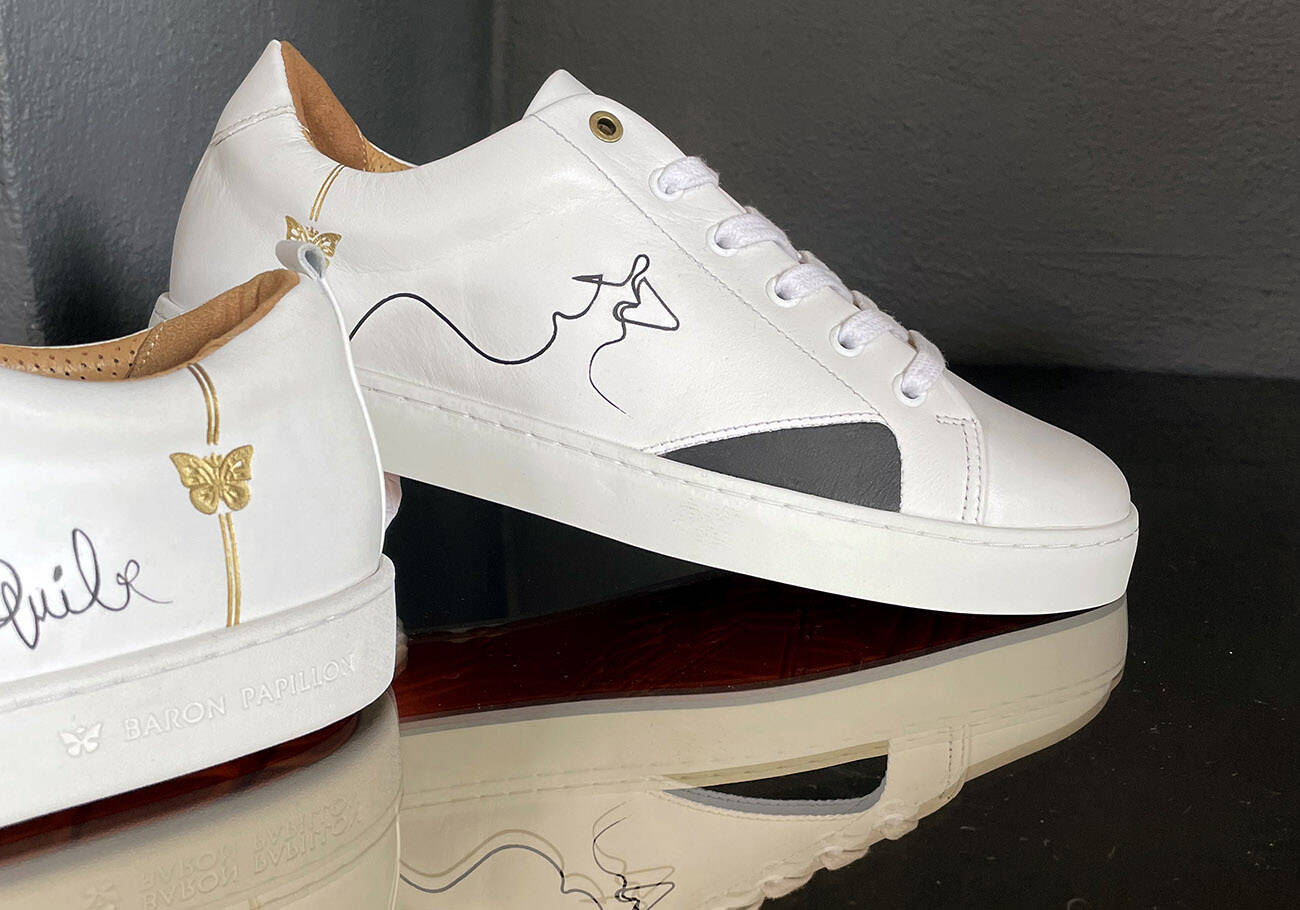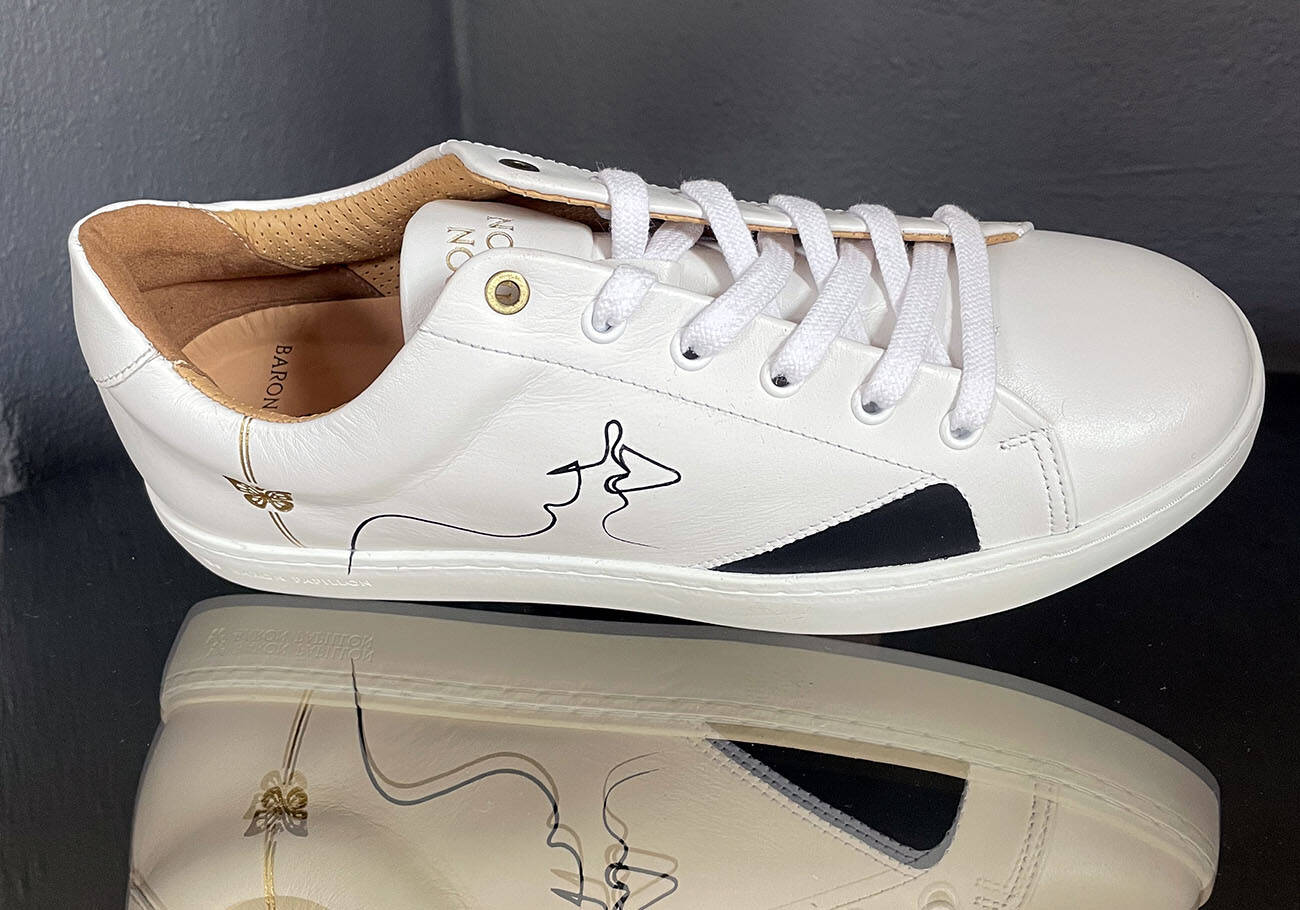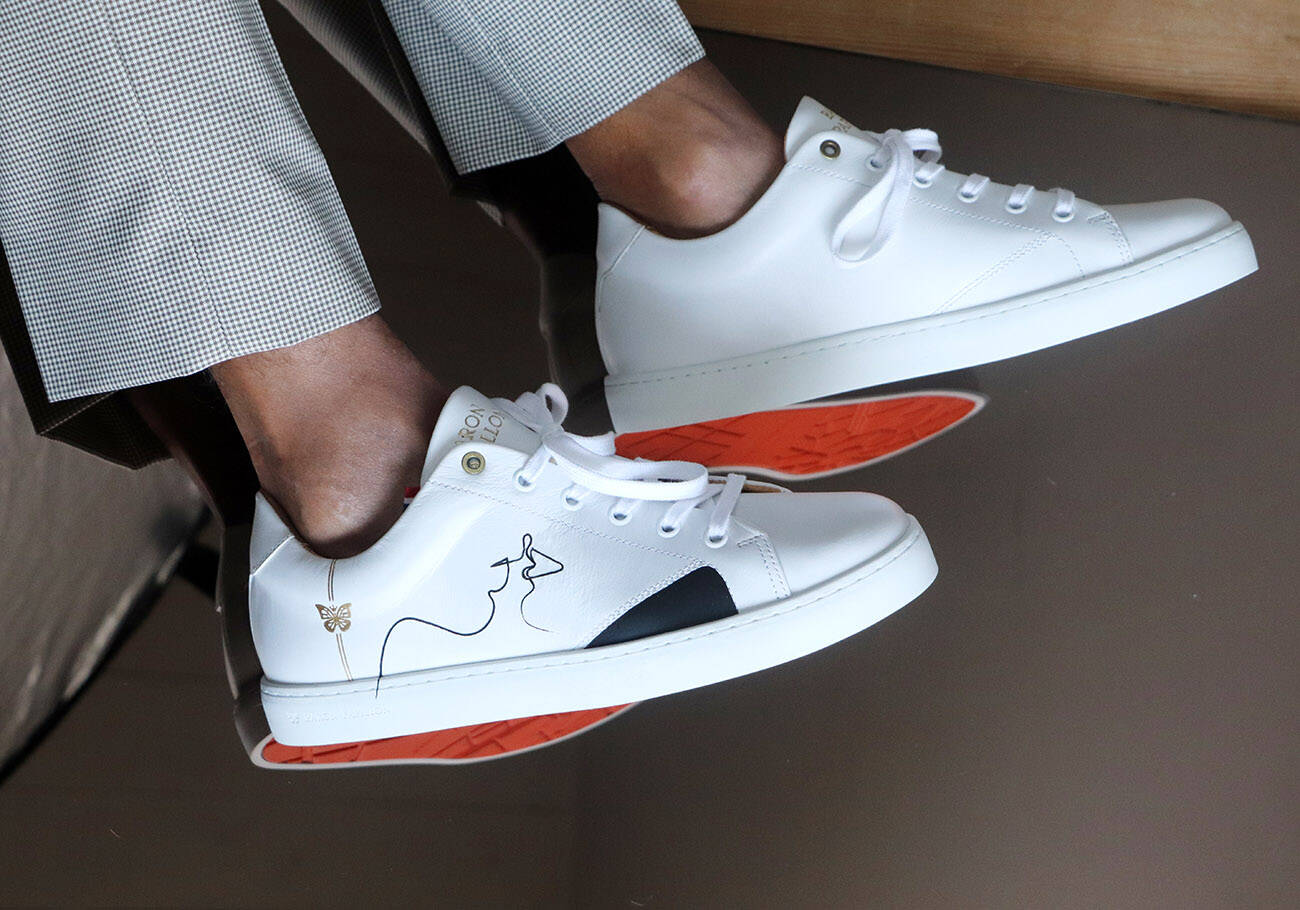 Made In The Smallest Details
The silhouette of the insect, embodying freedom and movement, is at the heart of the brand. Its crown originates from the heraldry of the Renaissance barons. 
This discreet logo embossed with two "Pal Vergette" lines has been hot gilded.
Carefully Selected Materials
The material is the basis of the craft work: without beautiful material, no beautiful product. That's why we leave nothing to chance: the quality of the leathers used is a fair compromise between flexibility and rigidity.
Just like the inner lining, the upper is made of calf leather from Italy. It will have a long life ahead of it with a beautiful patina.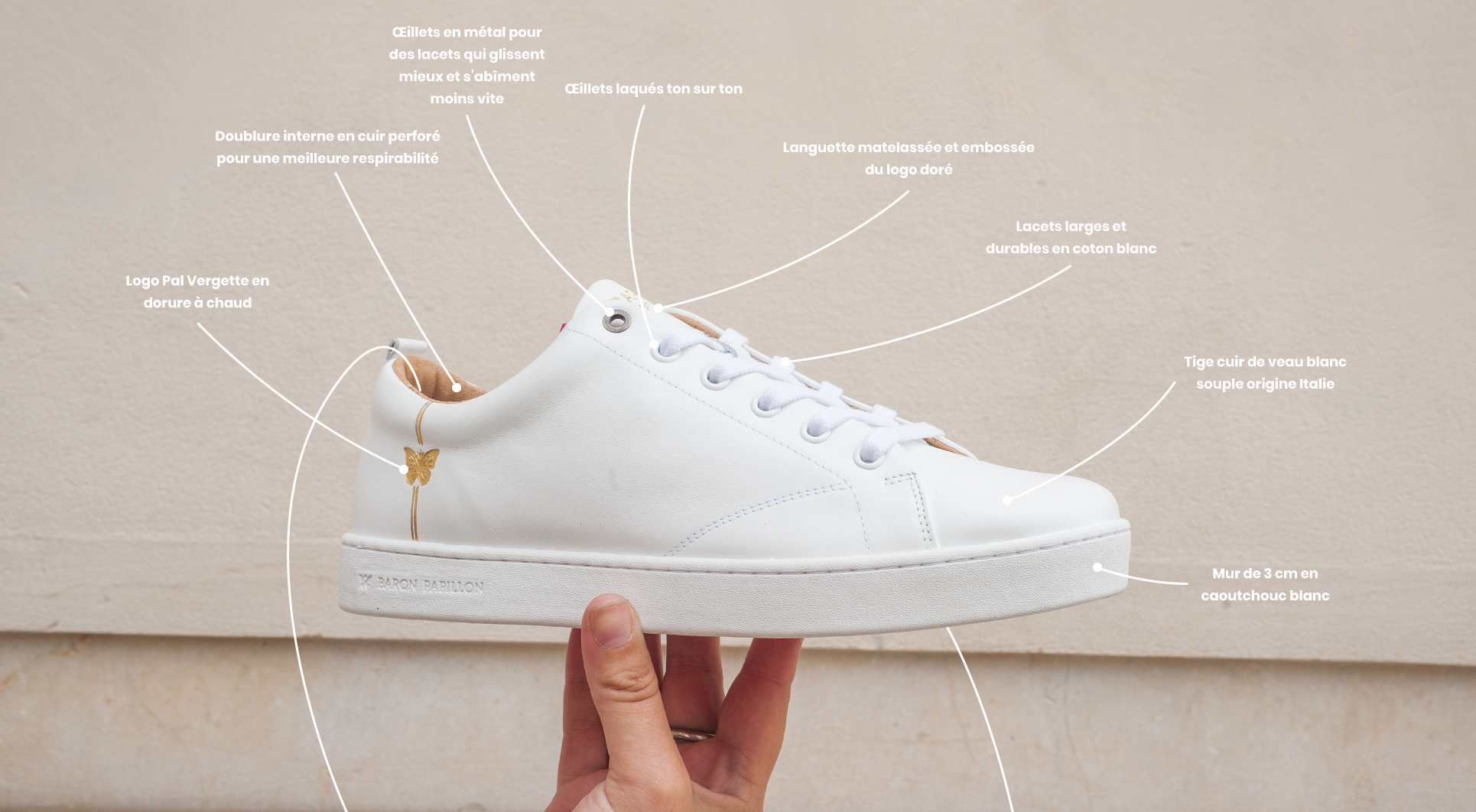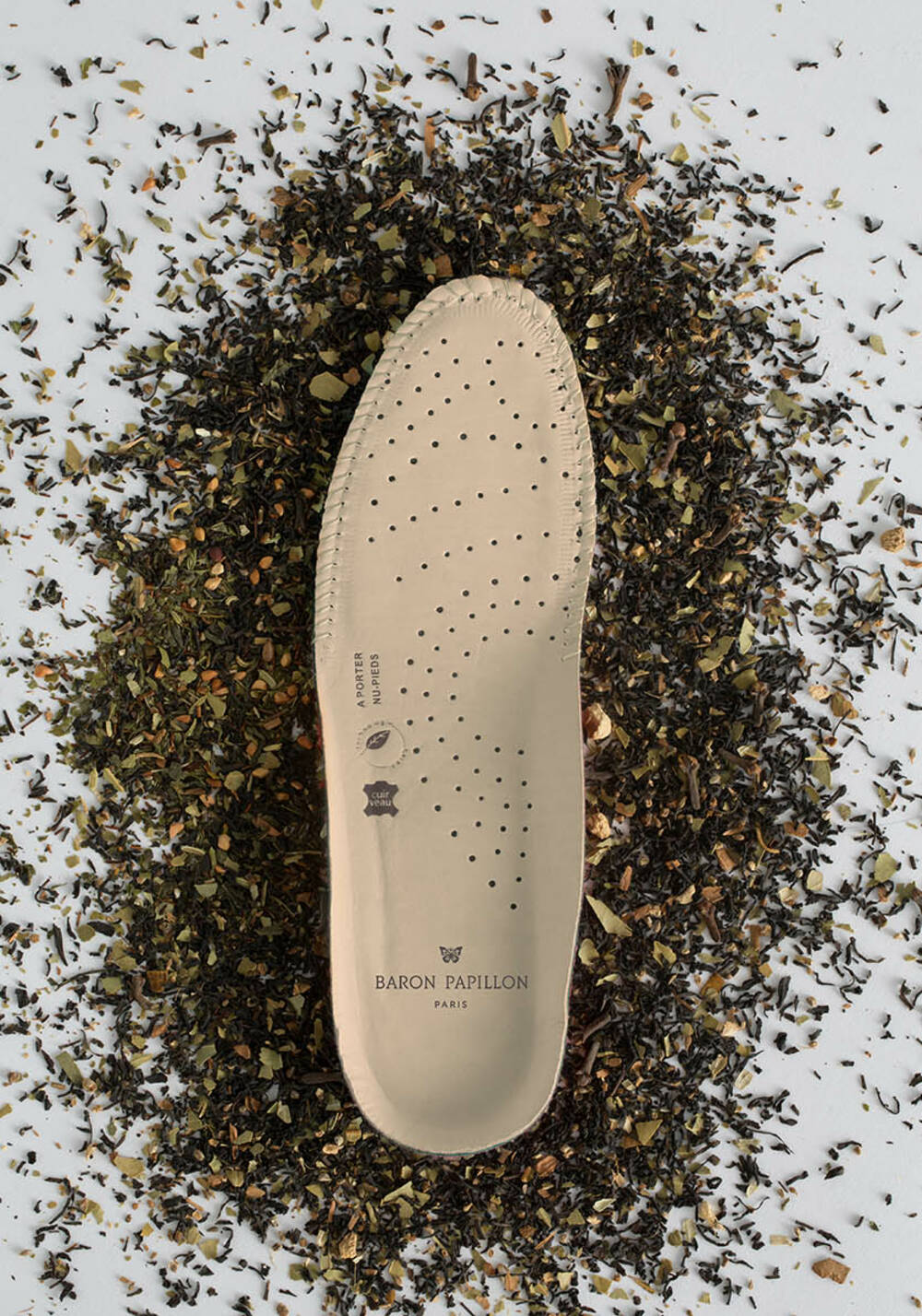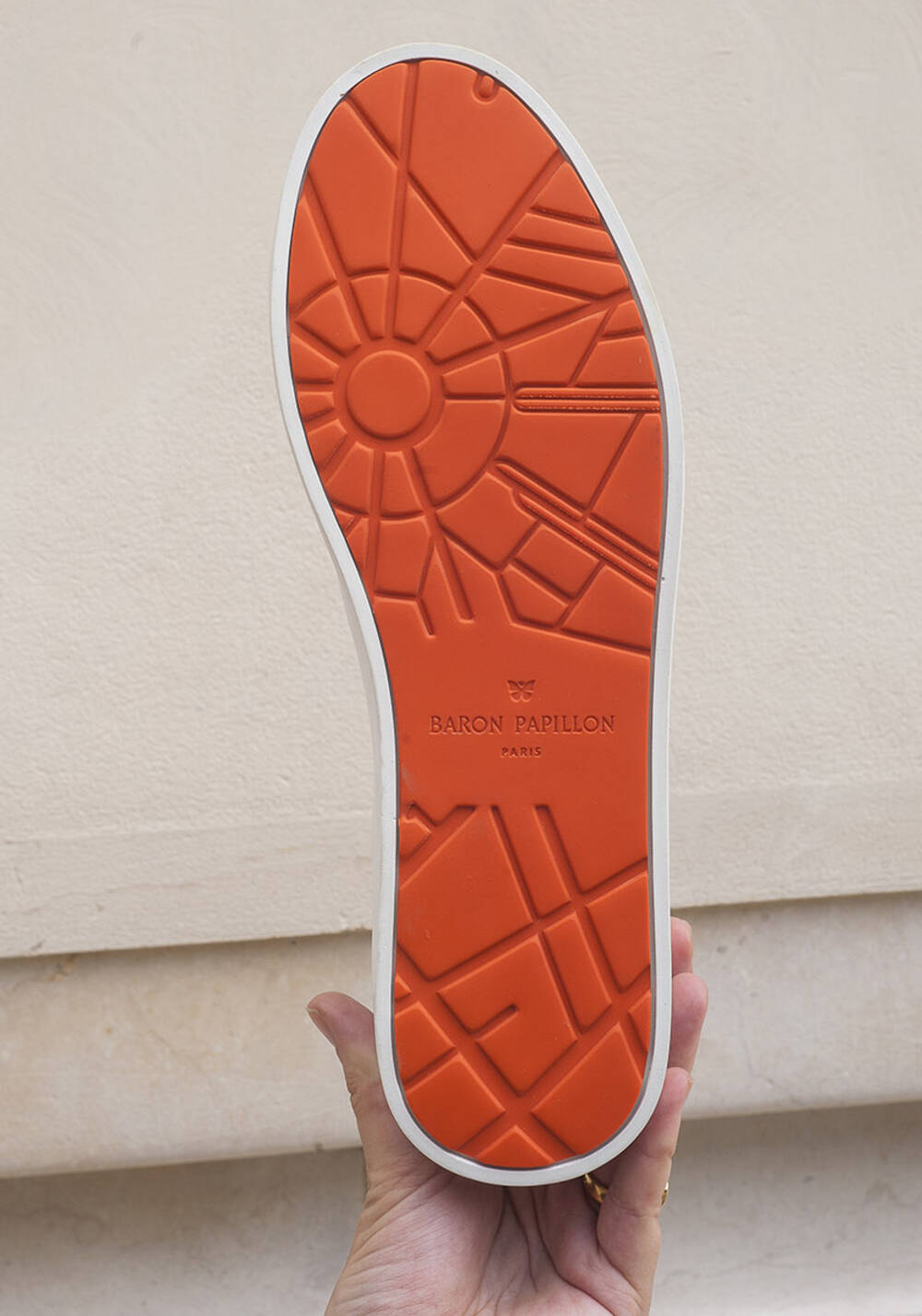 ECO-FRIENDLY AND FRENCH
A creative brand that
collaborates with artists
Quibe discovered our sneakers thanks to our friend Jean Frederic from French&Arrogant who put us in touch.
For this sneaker, Quibe and our stylist Eric Gallais have made together the emblematic design of the butterfly for our brand.
Concerned about environmental issues, we have always wanted sneakers that are elegant and clever, but also part of a slow fashion movement.
We adhere to the principle of "zero destruction" of our unsold goods and continue to develop creative processes that favor the search for European materials that are truly environmentally friendly, while also associating ourselves with ecological collaborative projects.
Upstream, we work on the elaboration of the first prototypes in Montjean-sur-Loire:
- Final drawing and choice of materials by our DA Eric Gallais
- First prototype in the design office
- Once this one is validated, we move on to the stitching stage, i.e. ordering the skins, cutting and stitching the different materials together and arriving at the stem
Then it is the assembly of the sole with the stem:
- Hot glued with a machine specially designed for our Barons
- Cold sewing with the sewing machine of our grandmothers
Finally the final preparation :
- Inserting the laces
- Placement of the herbal sole
- Recovery of the upcycled boxes to put our sneakers in
By manufacturing in France, we shorten our production time, we reduce our carbon footprint, we contribute to strengthen our local expertise. And we are proud of our know-how.
And we continue.
Our vintage shoe boxes are made from an old stock that was fabricated in France in the 80's to which added our logo.
A soft sponge and clear soapy water
Laces: machine or hand washable
Thanks

Photographers: Bruno Comptesse, Chloe Lemaitre and Eric Gallais
Shipping & Returns
We won't drag our feet to deliver.
Free delivery in France and in the European Union.
Delivery is made within 8 working days.
The status of the delivery can be consulted using the tracking number.
Returns must be made within 30 days of receipt and are at our expense.