I'm a baroness : the origins
For those of us who like to go out at night and for whom partying should remain an expression of freedom, it was in 2013 in Hong Kong that the idea of this creative and clever sneaker came to us as a solution to the intense fatigue that seized us when we had to lace up and unlace our high top sneakers. It was always a pain to have to spend so much time untying our laces when it would have been much more pleasant to prepare another good cocktail.
We are the only ones to have thought of it
Our unique and iconic TM180 Velcro allows a 180° opening so your feet can slip inside the sneakers without unlacing. It's even easier to take them off. A real time and effort saver.
Real slippers
Feeling good in your sneakers
Sourced from an Italian tannery, its perforated leather inner lining offers a soft and supple feel, making this sneaker a true glove for the feet. This new construction also increases the feeling of comfort.
You'll notice the leather softening after several days of use, which is quite normal: it's a guarantee of quality, while allowing the leather skin to adapt to your morphology.
Depending on where you are going and who you are meeting, it is essential to have high end shoes.
The designer sneaker, with one of two lace colors to match your mood, can be paired with jeans or a dress and worn day and night, in any circumstance between business meetings and outings. The perfect compromise.
Made up to the smallest detail
The silhouette of the insect, embodying freedom and movement, is at the heart of the brand. On this model, the logo has been embossed tone on tone by hot stamping. The 2 lines "Pal Vergette" and the crown are heraldic symbols.
The sneaker is already breathable with its branded sole, so it will be even more so with its perforated leather.
The holes are small enough to prevent the shoe from getting wet. This manufacturing process by punching that we also find in our Barons Originales gives it a look as sporty as modern.
Carefully selected materials
The material is the basis of the craft work: without beautiful material, no beautiful product. That's why we leave nothing to chance: the quality of the leather we use is a fair compromise between flexibility and rigidity.
Eighties editing,
still performing well
We went back to the "sport" fit we had on our Originals in 2013, namely heel reinforcements and the vintage guards on the tongue.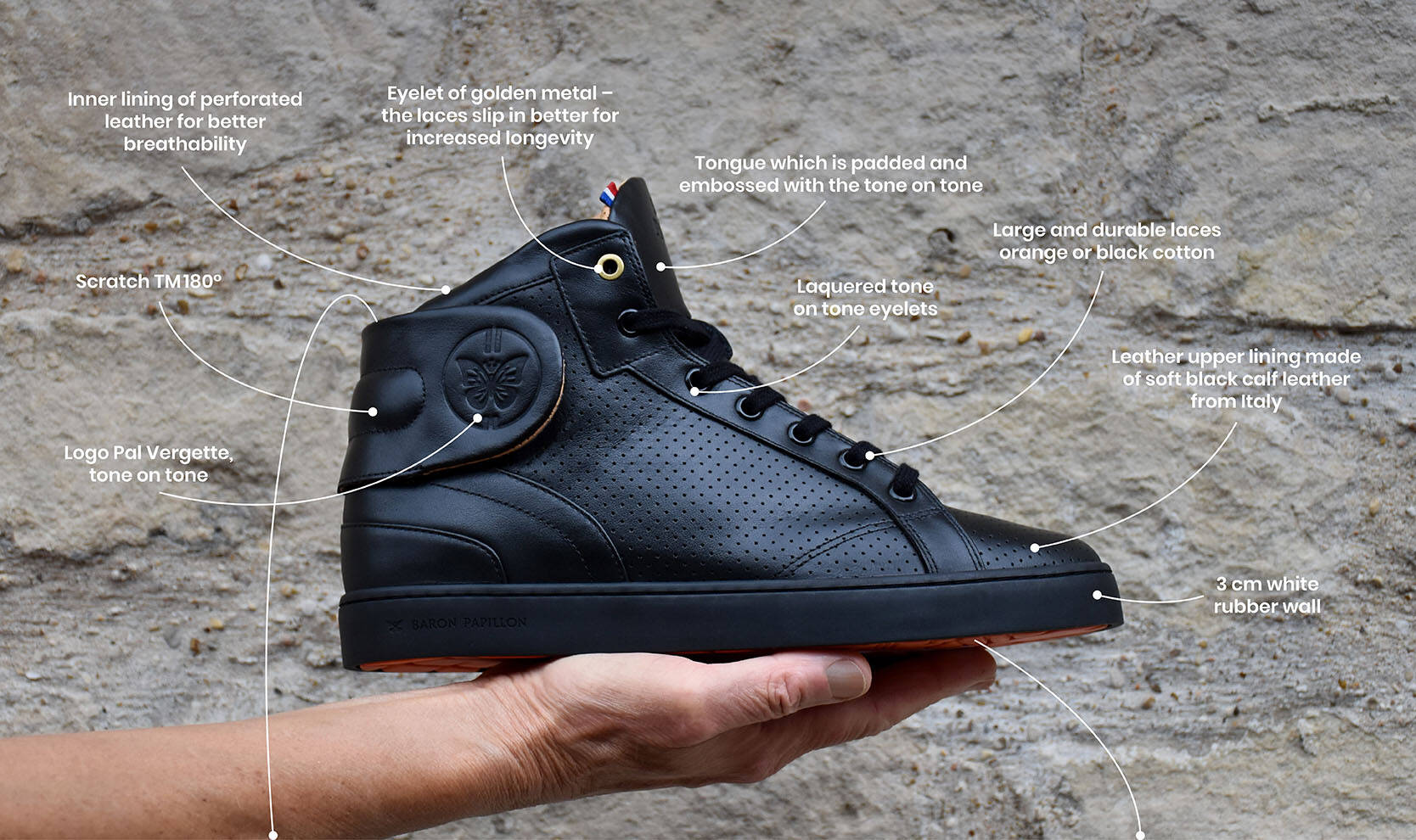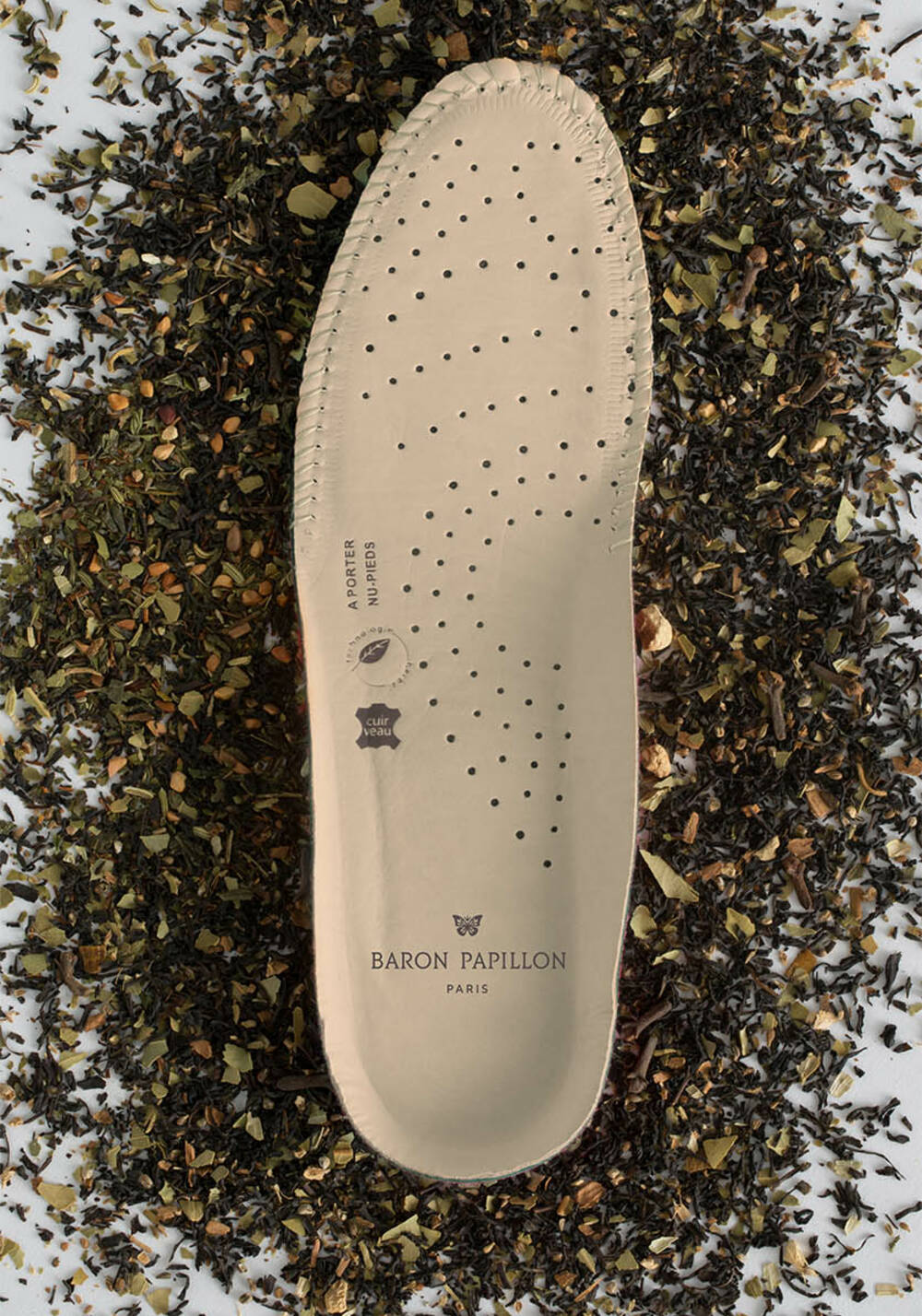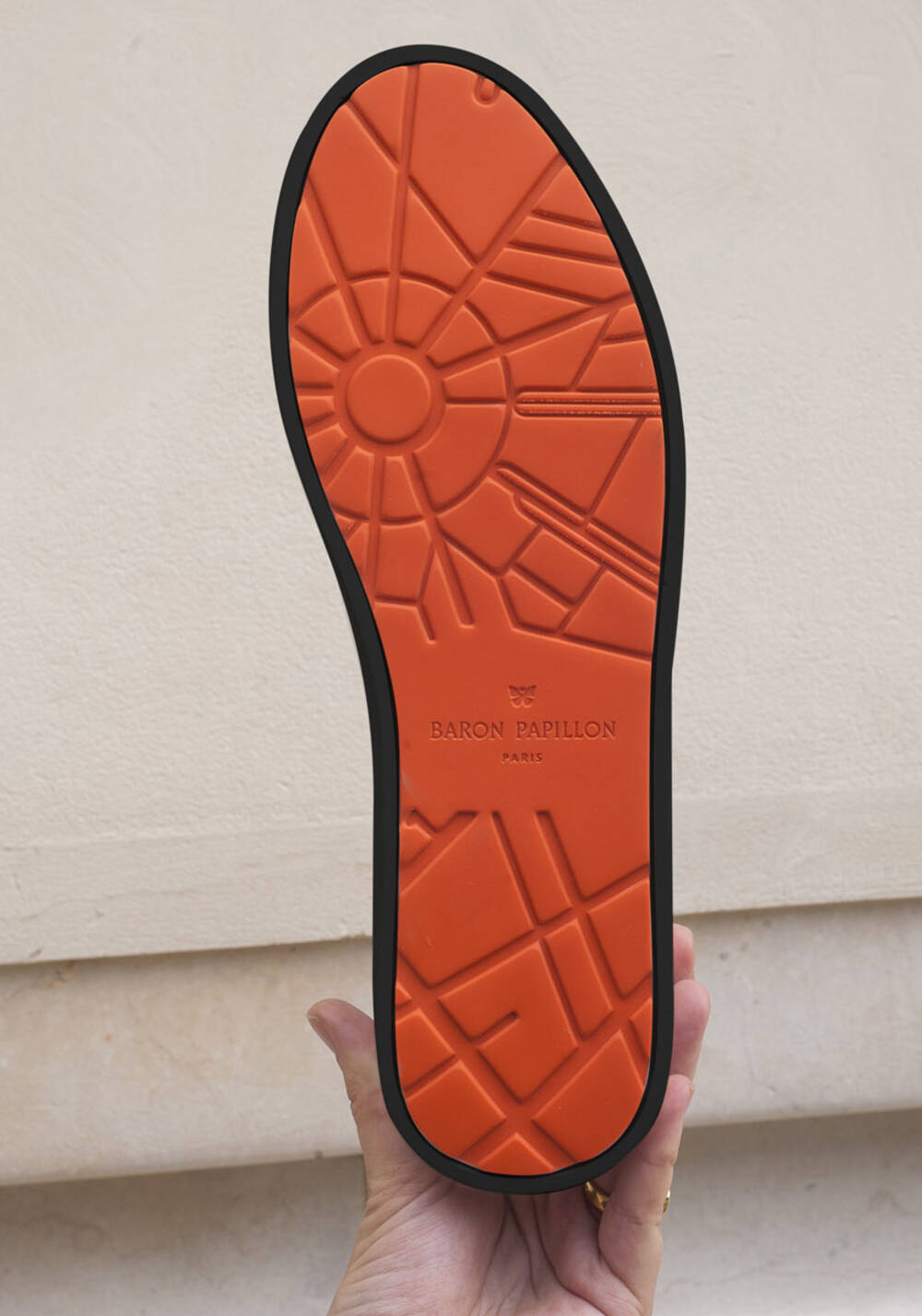 eco-friendly & French
Sensitive to environmental issues, we have always wanted sneakers to be elegant and astute, but also in line with slow fashion.
We adhere to the principle of « zero destruction » of our unsold stock and we continue developing creative processes for researching European based materials that respect the environment while associating ourselves in collaborative eco projects.
Upstream, we work on the elaboration of the first prototypes in Montjean-sur-Loire:
- Final drawing and choice of materials by our artistic director Eric Gallais
- First prototype in the design office
- Once this one is validated, we move on to the stitching stage, i.e. the production of the rods
Then it is the assembly of the soles with the stem:
- Hot glued with a machine specially designed for our Barons
- Cold sewn with the sewing machine of our grandmothers
Finally the final preparation :
- Inserting the laces
- Placement of the herbal sole
- Recovery of the upcycled boxes to put our sneakers in
By manufacturing in France, we shorten our production time, we reduce our carbon footprint, we contribute to strengthen our local expertise. And we are proud of our know-how.
And we continue. Our vintage shoe boxes are made from an old stock that was fabricated in France in the 80's to which added our logo.
It is easy to clean: soap and a damp cloth (no solvents)
Thanks
Photographers : Chloe Lemaitre et Eric Gallais
Shipping & Returns
We won't drag our feet to deliver.
Free delivery in France and in the European Union.
The status of the delivery can be checked with the tracking number.
Returns must be made within 30 days of receipt and are at our expense.