Although she lived in a royal setting, Marie-Antoinette was a scandal. With her strong personality, she radically abandoned her role as Queen to succumb to more ephemeral pleasures and passions that were not worthy of a woman of the time. All that mattered to her was art and spending her time entertaining herself through dance, music, theater, comedy and play. She often went out late at night incognito to attend many parties and balls.
Her history has fascinated many historians who are still trying to understand who she really is, but her past is still very much inaccessible.
The sneaker that
crosses the centuries
It is thanks to our rich partnership with museums that this sneaker bearing the effigy of the queen is now on display at the Château de Versailles.
CLASSY & FESTIVE
We are the only ones
to have thought of it
Our unique and iconic TM180 Velcro allows a 180° opening so your feet can slip inside the sneakers without unlacing. It's even easier to take them off. A real time and effort saver.
Singularity of the design
The unique technique of "placed" printing, carried out in Saint-Macaire-en-Mauges using an inkjet machine, allows us to obtain original and precise patterns such as this creative model inspired by the Toile de Jouy.
This process requires a great deal of attention to detail since the machine must be manually replaced every two sizes. The tracings take the perfect proportions for a perfect homothety whatever the size. The drying is done by ultraviolet rays, then a layer of varnish is delicately deposited to fix the print.
We roll out the red carpet
Depending on your profession, you can only afford high-end shoes. No need to think about it: the imperial sneaker can be paired with jeans or a dress and worn anywhere between client meetings and outings. A noble compromise for a royal casual pair.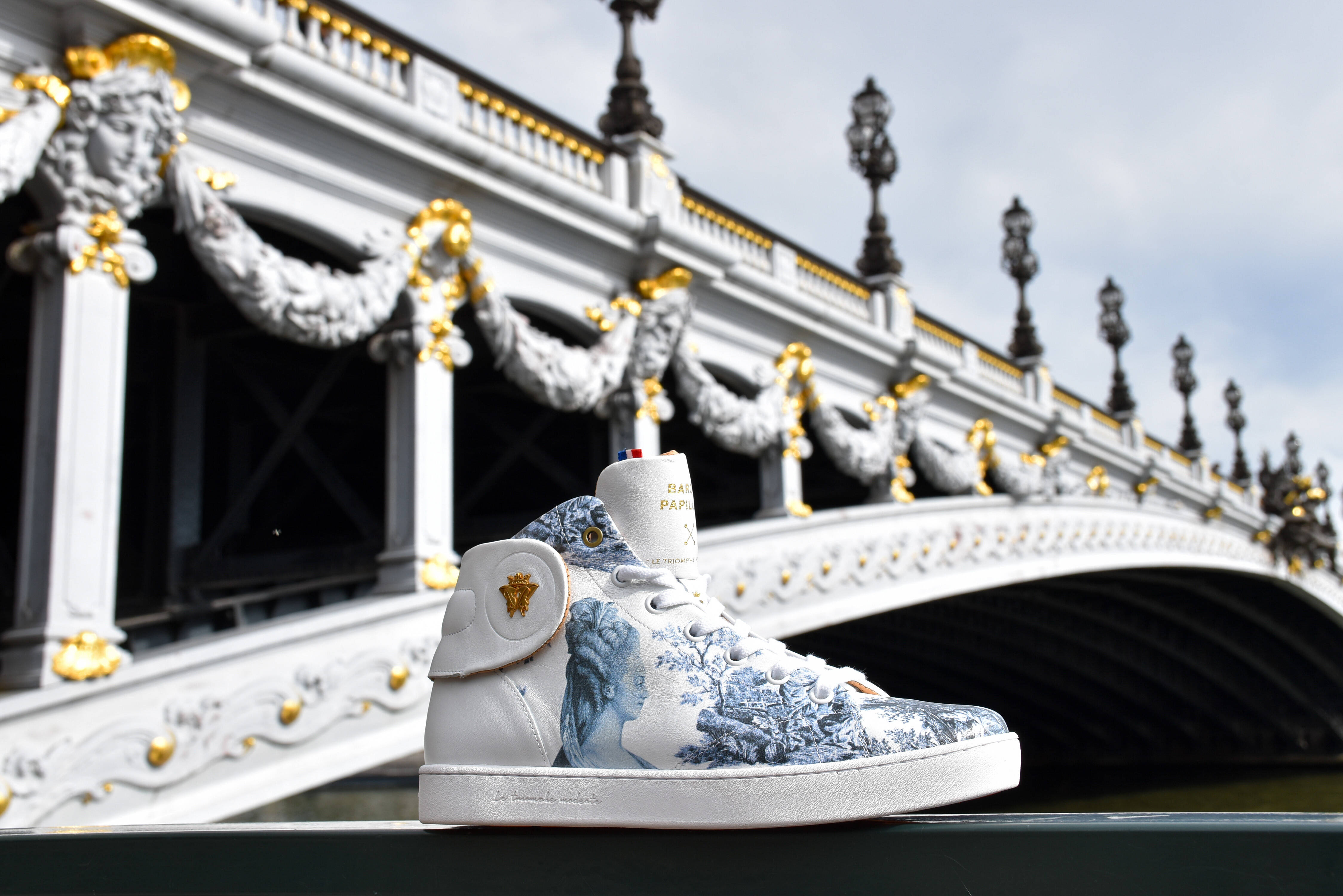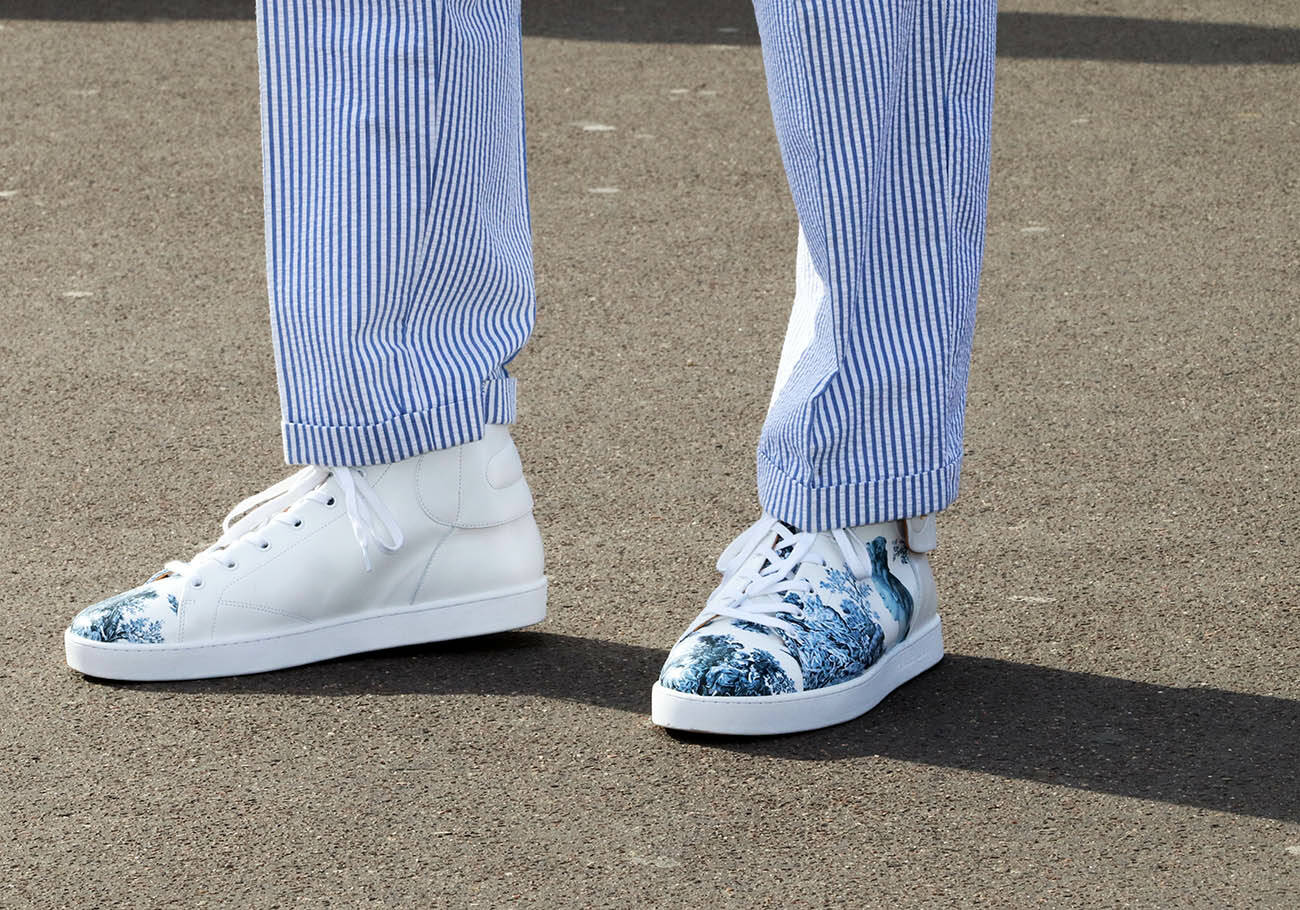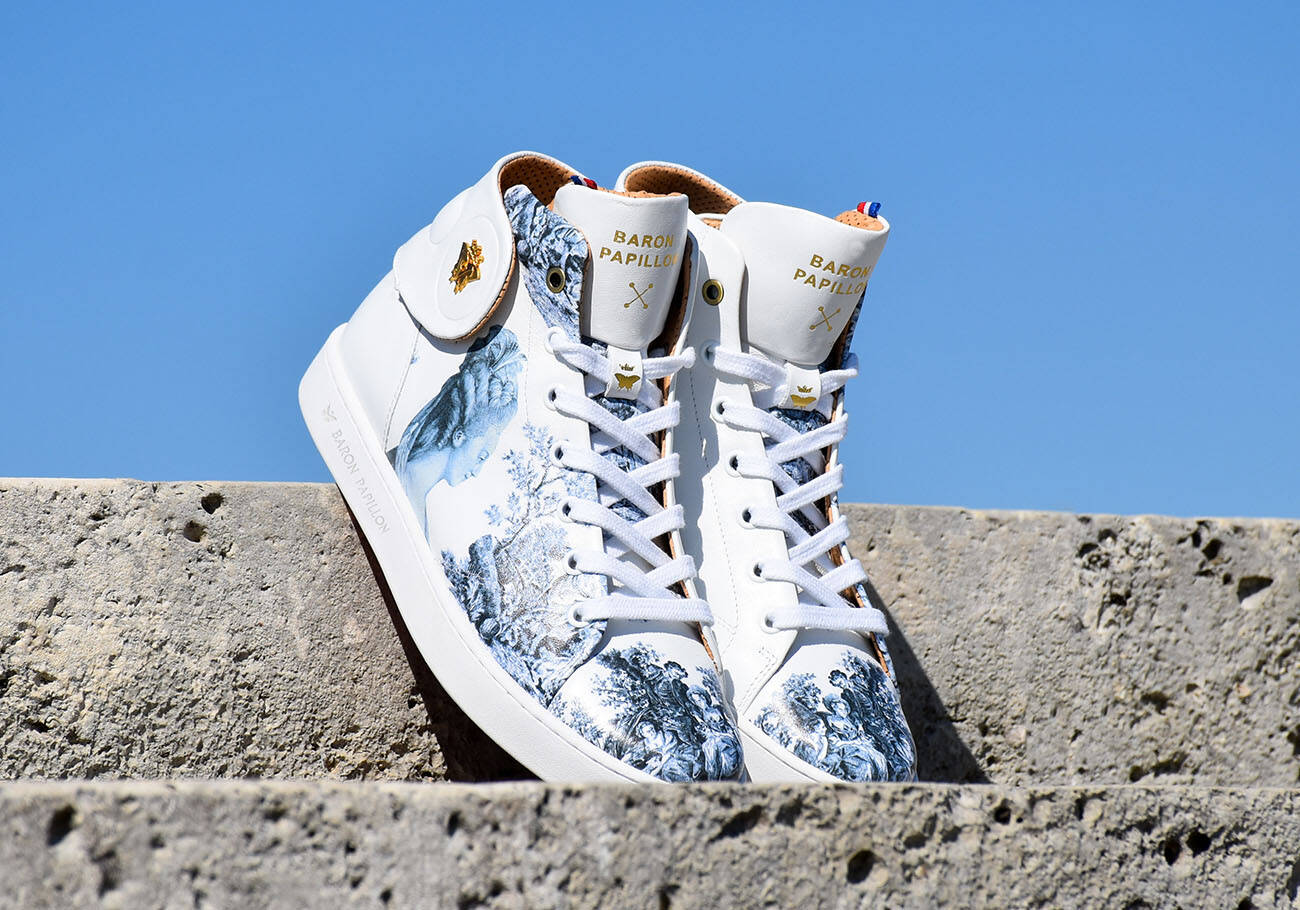 SCULPTED TO THE SMALLEST DETAIL
The silhouette of the insect is at the heart of the brand. Its crown has its origins in the heraldry of Renaissance barons. This golden logo was designed in collaboration with a French jewelry house. It took many steps to achieve this elegant result.
CAREFULLY SELECTED MATERIALS
Sourced from an Italian tannery and hand-stitched, its leather inner lining offers a supple and cushy feel, making the sneaker a true glove for the feet.
You will observe the leather softening after several days of use, this is quite normal: it is a guarantee of quality, while allowing the sneaker to adapt to your shape.
 
The material is the basis of the craft work: without beautiful material, no beautiful product. That's why we leave nothing to chance: the quality of the leather used has been enhanced. Just like the inner lining, the upper is made of calf leather from Italy. It will have a long life ahead of it.
It is the result of our secret alchemy of calf leather and cork with sanitizing herbal inserts. In addition to smelling good, these herbs improve foot hygiene by promoting aeration and absorbing moisture.
In other words, perspiration is kept to a minimum and the sneakers can be worn barefoot without giving off an unpleasant smell.
This sole also remains removable, allowing you to replace it if needed.
Sole
Paris, at Baron Papillon, it is the « Place de l'Étoile. We are re-using our unique design which identically retraces the roundabout and the avenues that enter it.
Concerning the composition, we provided our new Portuguese supplier with very strict specifications:
- our sole is to be composed of 75% recycled rubber
- 20 % natural rubber
- 5% synthetic rubber
The abrasion coefficient is high and guarantees durability. Its 3 cm height protects the uppers against scratchs. Neither too big or too thin, just in keeping with the ground.
Eco-Friendly & French
For this new model, we have voluntarily finished a leftover skin from an old stock. In other words, we don't have much left, but this allows us to keep no scraps.
Sensitive to environmental issues, we have always wanted sneakers to be elegant and astute, but also in line with slow fashion.
We adhere to the principle of « zero destruction » of our unsold stock and we continue developing creative processes for researching European based materials that respect the environment while associating ourselves in collaborative eco projects.
Upstream, we work on the elaboration of the first prototypes in Montjean-sur-Loire:
- Final drawing and choice of materials by our artistic director Eric Gallais
- First prototype in the design office
- Once this one is validated, we move on to the stitching stage, i.e. the production of the rods
Then it is the assembly of the soles with the stem:
- Hot glued with a machine specially designed for our Barons
- Cold sewn with the sewing machine of our grandmothers
Finally the final preparation :
- Inserting the laces
- Placement of the herbal sole
- Recovery of the upcycled boxes to put our sneakers in
By manufacturing in France, we shorten our production time, we reduce our carbon footprint, we contribute to strengthen our local expertise. And we are proud of our know-how.
And we continue. Our vintage shoe boxes are made from an old stock that was fabricated in France in the 80's to which added our logo.
It is easy to clean: soap and a damp cloth (no solvents)
Thanks
Photographers : Bruno Comtesse, Eric Gallais, Chloé Lemaitre
Shipping & Returns
We won't drag our feet to deliver.
Free delivery in France and in the European Union.
The status of the delivery can be checked with the tracking number.
Returns must be made within 30 days of receipt and are at our expense.