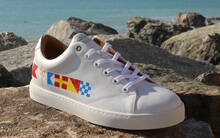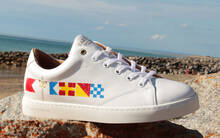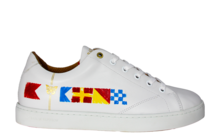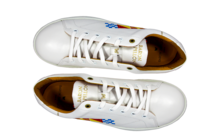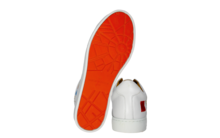 Baron Papillon Low White
Pavillon Sneaker
Baron Pavillon: Bravo, Alpha, Romeo, Oscar, November
Paint and felt pen tag, voluntarily spontaneous with the rhythm of a slight north-west wind
•   Baron flag at the Port Side and Starbord
•   Personalization, hand-made in our Granville workshop
•   As comfortable as a slipper
•   Can be worn easily in all circumstances
•   White calf leather from Italy
•   A "breathable" sole.
Made in France
Baron Papillon, creative Parisian luxury sneakers made in France. 
Estimated delivery: Second week of October
End of pre-orders: September 30
French manufacture Pays de Loire.
Soft calf leather upper from Italy.
Perforated leather lining from Italy.
Padded tongue embossed with gold logo.
Pal Vergette logo in hot gilding on the external back side of the upper.
French flag label in cotton.
White cotton laces.
Orange rubber sole with EVA inserts for perfect shock absorption, height: 3 cm.
Secret alchemy" insole made of calf leather and cork with sanitizing herbs inserts allowing to wear these sneakers barefoot.
Free delivery in France and the European Union
Delivery is made within 2 to 4 working days
The delivery status can be viewed using the tracking number
Returns must be made 30 days after the date of receipt and are at our expense
Personalized items cannot be returned